Hey everybody, I'm new enough to here but unfortunately one of my ratties has come into a problem.
We'll be taking him to the vet in a few days time (trying to scrape money together) but in the mean time I'd like your opinions.
Well Loki is just over a year old, the cage is always in good condition, he's no different. Happy, chattering no change in behavior.
We noticed this on his stomach as he was climbing around the cage yesterday. We're always seeing them and taking them out so it must have popped up very recently!
It's not scabby or oozing, he doesn't seem to be over grooming. His cage mate Thor does get rough sometimes and leave bites.
Thanks for anything you could offer,
Pictures attached, sorry they aint great, he was squriming.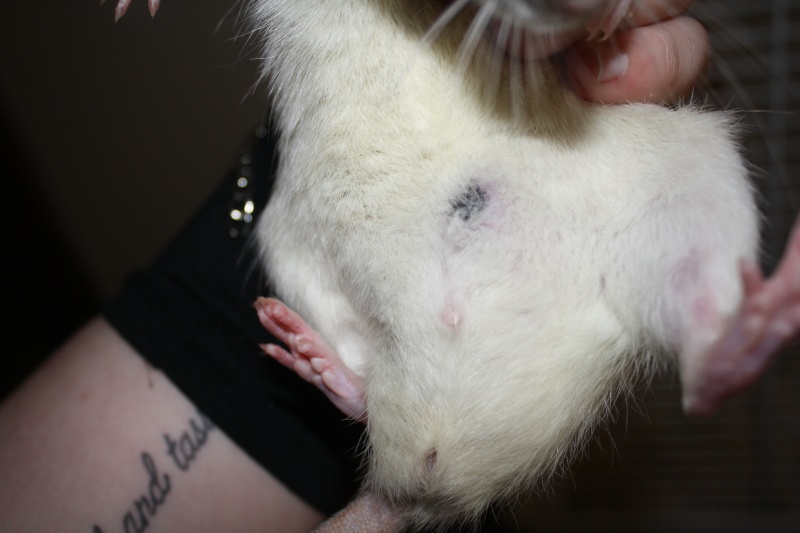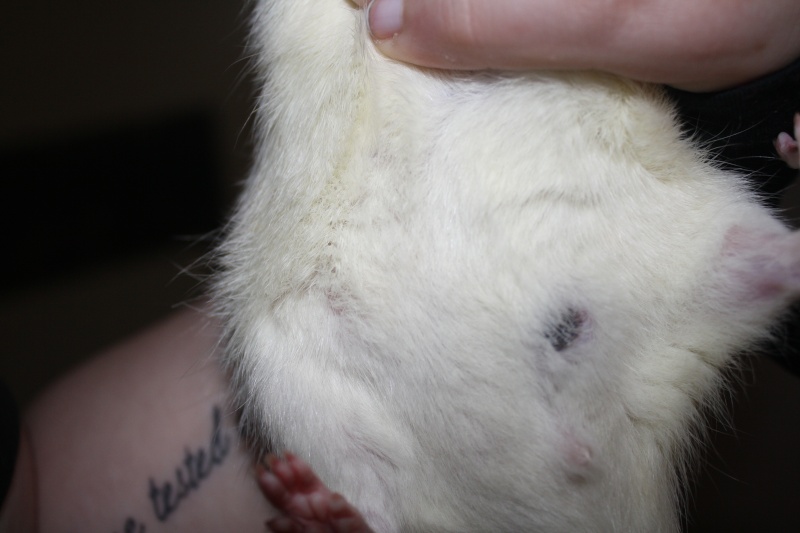 revol.lover

Newbie





Posts

: 5


Join date

: 2013-06-22


Age

: 23


Location

: Offaly



looks like an abcess. It's best to seperate him from his cagemate(s) for a few days. Abcesses can be contagious. If it's black, it will be open soon. If it's open it's important to keep it clean so the puss can come out. Best way to do that is to use old towels as bedding. Should be a lot better in a week or so.
You can clean the wound (when its open) with some boiled water (wait till it's cooled down). Here we use green biotex (sort of washing powder) but no idea if it exists in ireland
My bumblebee had one in about the same spot. Had him seperated for a week and it cleaned up very nice. Now he's back with the group and all fine.
Looks more like a staph infection. But looks can be deceiving. But its much the same treatment warm salty water or hibby scrub and rub gently two or three times a day. If taken to the vet you maybe prescribed antibiotics and or a steroid cream. Both useless unless cleaning doesn't cure it and the cleaning process may take weeks.

If it is an abcess you may get a pus discharge. This is good. Pus can be different colurs and textures and may also have some blood in it. After that it is vital you keep it open and clean it will heal up on its own.

If its staph eventually the hair will come off and it may leave a small cut. Again cleaning it will cure it. If it is staph you must be careful it can be contagious to you or other rats, zoundz can elaborate, so wear gloves. It will only give you a rash as far as I have seen.

If it is an abcess there should be a hard lump under the dark skin.
Staph will not have this. Either way if not sure go to the vet. Majority of skin issues heal with cleaning

Happy cleanings

_________________
Eoghan.

"Never interrupt the enemy when they are making a mistake"

"Tact is the ability to tell someone to go to hell in such a way that they look forward to the trip"


Proudly Commanded by
Squeak, Rafiki, Piscin, Raticate, Dizzy Beag, Smoulderin' Cinnabun, Smoked Sassafras, Bree, Shrimp-a-Sioráf, Bella, ButterFlobbles, Poptee, Ping
Evil Oscar Wilde(M), Cú Chulainn(M), Sir Didymus(M)
Previously Commanded By
George, Ghostie, Ralf, Tuffy, Pixie, Willow, Flea, Nibblet, Rose, Tulip, Gypsy, Bluebell, Crimp, Annie,Jiggly Puff of Blue Smoke, Dizzy, Noodles(M) And Smokie(The Supreme Commander)
https://plus.google.com/+EoghanDuggan/

eoghan

Oldie





Posts

: 204


Join date

: 2013-08-05


Age

: 31


Location

: The People's Republic of Cork



It's a preputial abscess ;)and it looks like it's already burst. I would bathe it in salt water or diluted hibiscrub and see if the scab comes off, as you want it to be kept clean - and to heal from the inside, so being covered in a scab is not ideal. These are not usually contagious, but they can be hereditary.
xx
ETA - staph infections don't usually have these black scabs, having said that staph may be present, and in case of that, it's always wise to be careful with handling the area, and to keep yourself scrupulously clean too, as staph can be contagious to people - and it's a little worse than just a rash
it can be very very nasty!
_________________
Laura Woods
Bongo Fury Rattery - Hobby rattery breeding for Russian varieties and Mink and Cinnamon with plans for Pearl based in the future. Based in West Cork. We are NFRS and IFRA members.
Thanks for all the replies!
Loki has been separated from his cage mates and we've been treating him like you've all said.
The scab appears to be coming off now, a little oozing but the skin underneath looks healthy and pink.
I'd say he'll be right as rain soon
You have his thanks!

revol.lover

Newbie





Posts

: 5


Join date

: 2013-06-22


Age

: 23


Location

: Offaly




_________________
Eoghan.

"Never interrupt the enemy when they are making a mistake"

"Tact is the ability to tell someone to go to hell in such a way that they look forward to the trip"


Proudly Commanded by
Squeak, Rafiki, Piscin, Raticate, Dizzy Beag, Smoulderin' Cinnabun, Smoked Sassafras, Bree, Shrimp-a-Sioráf, Bella, ButterFlobbles, Poptee, Ping
Evil Oscar Wilde(M), Cú Chulainn(M), Sir Didymus(M)
Previously Commanded By
George, Ghostie, Ralf, Tuffy, Pixie, Willow, Flea, Nibblet, Rose, Tulip, Gypsy, Bluebell, Crimp, Annie,Jiggly Puff of Blue Smoke, Dizzy, Noodles(M) And Smokie(The Supreme Commander)
https://plus.google.com/+EoghanDuggan/

eoghan

Oldie





Posts

: 204


Join date

: 2013-08-05


Age

: 31


Location

: The People's Republic of Cork



---
Permissions in this forum:
You
cannot
reply to topics in this forum